Hotwood's Fire Pits
When you call Hotwood's, you get a live voice immediately that is ready to help with any situation, right down to the best way possible to deliver your purchase and save you anyway we can and build a working relationship that will last for years.
Hotwood's 30" Fire Pit shown above complete with ash cup on the ground under the center of the pit to catch any ashes. This helps keep the pit itself clean. You do not need to use this if you desire not to as you see in other pictures. It is to mainly keep any unwanted ash from falling on a surface under the pit that you would not want the ash to land on.
This fire pit is designed and manufactured from 10 gauge steel to assure you lifetimes of use under normal conditions. Pit has center drain to allow any moisture of over flow ash to fall through to the ash cup or on the ground below. Legs are 2" x 2" steel with steel circular pads welded to help keep it from sinking when not on a solid surface.
With this fire pits shallow design, you will use less wood or charcoal to heat or prepare your meals. When you are done cooking, swing the grate to the side and enjoy a wonderful campfire while enjoying your meal.
Your new pit will also come with a fire poker that you see laying on the top of the grate above along with a chili pot holder to hang any style of metal pot on to cook what ever you might cook in that type of pot. ( Pot or skillet shown above does not come with this fire pit )
Fire pit itself is 19 1/2" tall with a total outside diameter of 38". Diameter includes the round bar railing that is welded to outside edge of fire pit.
Railing around outside edge of pit itself is there to help keep you away from the heat and also gives you a perfect grab handle when moving or handling the unit.
Expanded metal grate can be used to set your meats on directly or place any style pan or skillet directly on. It is adjustable up and down to give you the option to raise or lower the grate depending upon how much heat you have in your pit. There is also a spacer clamp on the grate adjuster post to use while spacing your grate to your heat.
Both units are painted with the premium high temperature paint to assure many years of coverage to the steel to prevent rusting of your fire pit.
Notice how the cooking grate swings side to side to make it possible to work your fire or put your food off to the side to use it as a warmer.
Grate has been designed with a cross shaped subframe under the expanded metal grating. This will keep your grate from ever bowing or warping, like you see in almost every grill on the market over time.
This is a "NO WORRIES" fire pit that you will enjoy for as long as you cook or entertain outside with wood or charcoal.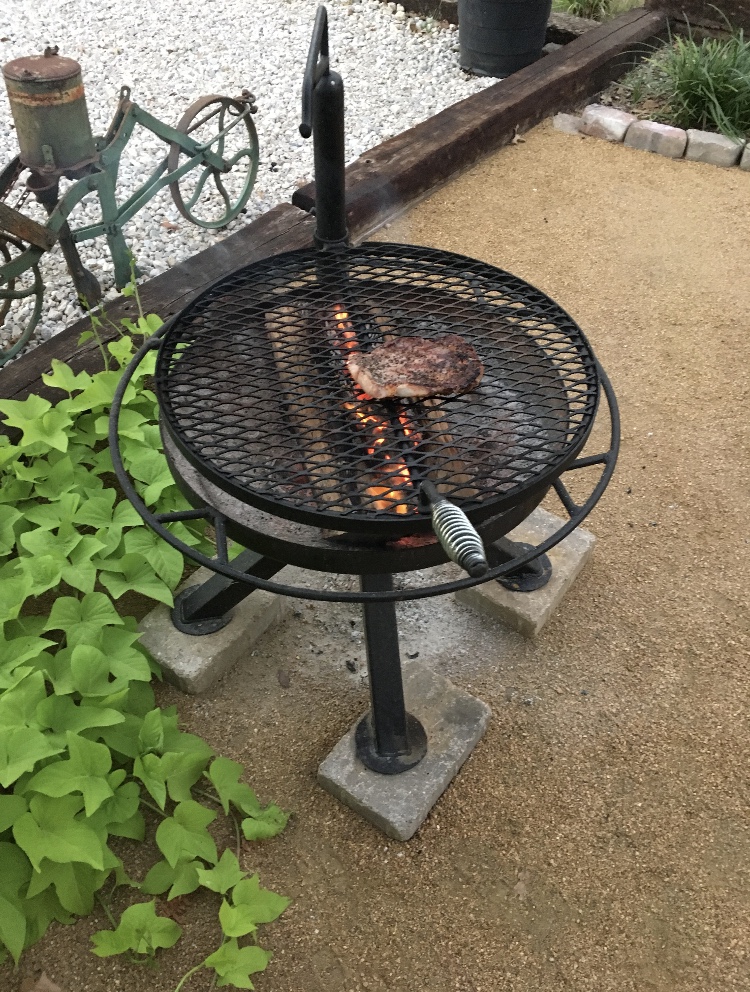 30" Hotwood's Fire Pit shown below with everything you will receive when you purchase one at one of our stores or online. The 24" will have the same options as the 30" shown below. ( Look for us at First Monday Trade Days each month in Canton Texas, in the big red Hotwoods building. )
Manufactured in the great state of Texas exclusively for Hotwood's. Keeping it home, doing it right, believing and investing in the USA. Thats what we do.
24" Hotwood's Fire Pit
Complete unit includes:
poker, grate spacer, ash cup, chili pot holder, griller grate.
Price $439.00 ( Price does include shipping )
30" Hotwood's Fire Pit
Complete unit includes:
poker, grate spacer, ash cup, chili pot holder, griller grate.
Price $485.00 ( Price does include shipping )
Call Hotwood's to order or for any questions:
Toll Free 877-407-8645
Local Grand Island, Ne. 308-381-6275
Local Emory, Tx. 402-768-3034